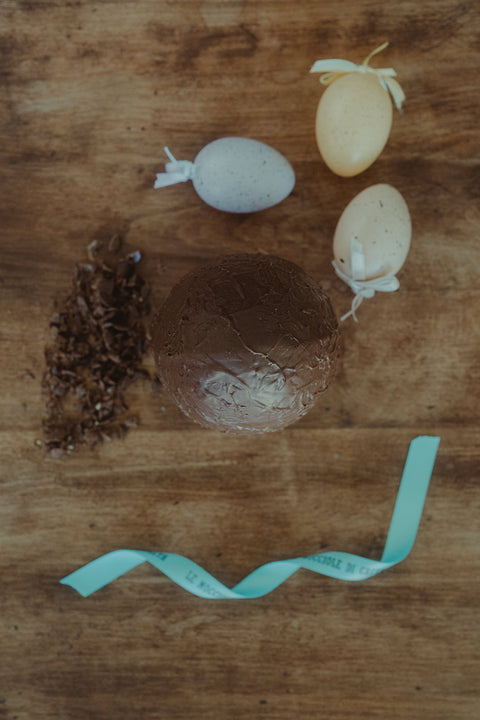 LeNocciolediGreta
Dark Chocolate Egg
OUR HIGH-QUALITY DARK CHOCOLATE TURNS INTO A GOURMET EGG THAT ENCLOSES, AS A SURPRISE, A BAR OF MILK CHOCOLATE WITH HAZELNUTS AND A PINCH OF SALT FROM THE SALT PAN OF SANT'ANTIOCO AND OUR HAZELNUTS COVERED IN CHOCOLATE.
IT IS MADE EVEN MORE DELICIOUS BY THE BASE WHICH IS ALSO IN CHOCOLATE.
PACKAGED IN AN ELEGANT BOX, IN THE DECORATIVE BOW YOU WILL FIND A LILLI POP, OR A CRUNCHY CHOCOLATE SHELL WITH A CREMINO INSIDE, START ENJOYING OUR CREATION.
Weight: 170 g


Ingredients: toasted hazelnuts, sugar, cocoa beans, cocoa butter, emulsifier: sunflower lecithin, natural vanilla extract, whole milk powder, cane sugar, milk, salt. May contain nuts, soy, milk, gluten.

Nutritional values ​​per 100 g:
Energy 2146 kJ / 513 kcal
Fats 38gr of which saturated fats 23gr, Carbohydrates 20gr of which sugars 11gr, Fibers 30gr, Proteins 7.7gr, Salt 0.17gr.
Conservation method: keep in a cool and dry place
May contain traces of nuts: HAZELNUTS, MILK